http://www.nbcmiami.com/news/local/Hollywood-Nursing-Home-Victims-Body-Temperatures-Approached-110-Degrees-446250883.html?_osource=SocialFlowFB_MIBrand
I guess the media can't cover this one up and ignore it and say abuse of the elderly is a private matter not to be published.
What I want to know is how many of these victims were forced to leave their homes, how many were on feeding tubes and restraints.  How many had relatives who would take them in and care for them.
Those are the real questions.
Hollywood Nursing Home Victims' Body Temperatures Approached 110 Degrees: Officials
Armed with new evidence – plus recorded body temperatures of other victims reaching 108.3 and 107 degrees – the Agency for Healthcare Administration Wednesday issued an emergency suspension of the facility's license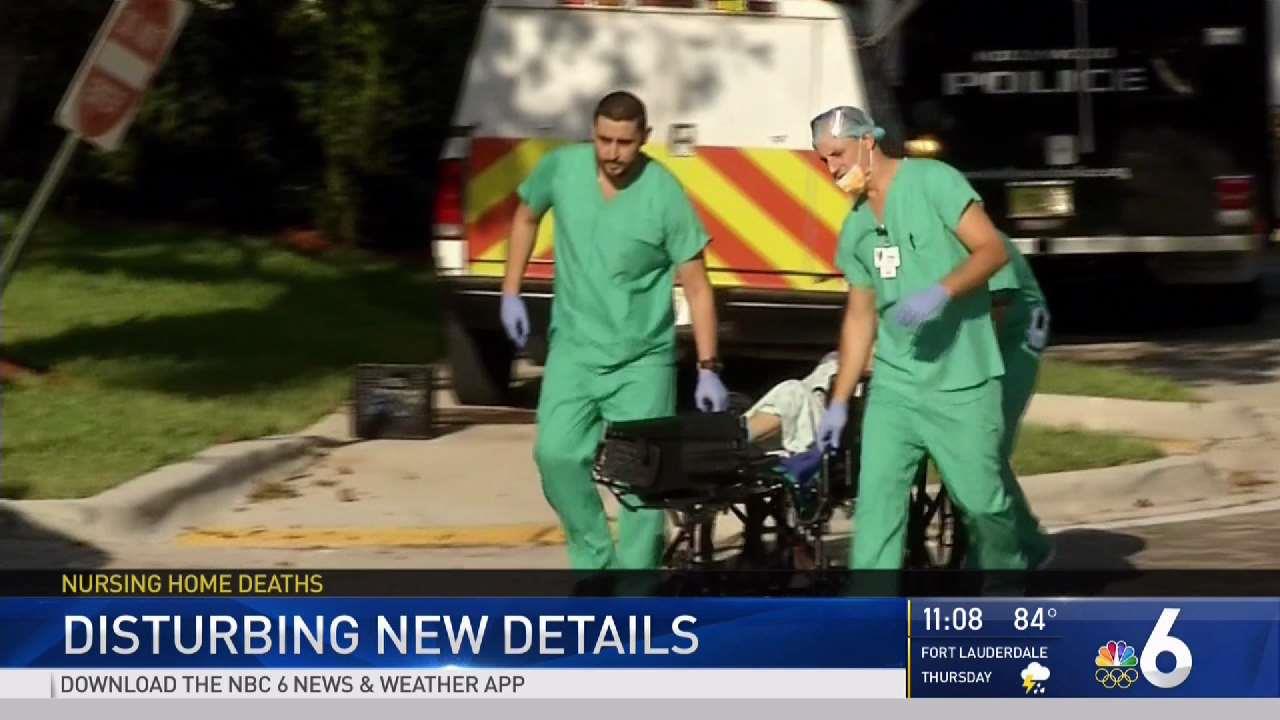 By the time a 70-year-old woman was evacuated from Florida's Rehabilitation Center at Hollywood Hills at 6:42 a.m. last Wednesday, she was in cardiac arrest and her body was blazing hot, according to officials.
She died seven minutes later with a post-mortem temperature of 109.9, according to the Florida Agency for Health Care Administration, which alleges she and others were evacuated from the facility "too far gone and far too late to be saved."
Another woman, 71 years old, was taken to the adjacent Memorial Regional Hospital at 7:03 that morning without a pulse – her body temperature just before she died at 7:54 a.m.: 108.5 degrees.
Armed with that new evidence — plus recorded body temperatures of other victims reaching 108.3 and 107 degrees — AHCA Wednesday issued an emergency suspension of the facility's license, effectively putting it out of business pending any legal challenges.
AHCA Secretary Justin Senior called what happened in Hollywood Hills "gross medical and criminal recklessness."
"As more information has come to light on this egregious situation, this facility absolutely cannot continue to have access to patients," Senior said in a statement Wednesday. "This facility failed its residents multiple times throughout this horrifying ordeal. It is unfathomable that a medical professional would not know to call 911 immediately in an emergency situation."
The order also claims medical records were created after the residents were evacuated to make it appear they were in better shape than they were.
The "late entries … claim(ed) safe temperatures for patients while those same patients were across the street dying in the emergency room with temperatures of over 108 degrees," Senior said. "No amount of emergency preparedness could have prevented the gross medical and criminal recklessness that occurred at this facility. For that reason we will suspend their license and completely terminate them from the Medicaid program. We will continue to do everything in our power to protect patients in Florida – especially those who are frail and can't take care of themselves."
The emergency order says allowing the center to remain open would create "an immediate serious danger to the public health, safety or welfare."
The center had already been placed under a moratorium preventing it from receiving any new residents and a suspension blocking it from getting Medicaid reimbursements.
But those actions were superseded Wednesday by the emergency suspension order, according to AHCA.
The center has declined to comment on the events this week, citing the ongoing criminal investigation into the deaths.
The suspension order came as the home's owners were seeking a court hearing to allow it to reopen. In a complaint filed Tuesday in Leon County Circuit Court, the home challenged the state's moratorium and Medicaid suspension, saying it was based on "innuendo, implied speculation and conjecture."
There was no proof any of the residents died as a result of the high temperatures, they claimed at the time, suggesting residents may have died due to the "trauma" of being evacuated.
Among the allegedly doctored medical records: A 78-year-old resident was recorded as having a 101.6-degree temperature at 4:42 on the morning of the evacuation, but 10 minutes earlier she arrived in the Memorial Regional emergency room in cardiac arrest with a temperature of 108.3, the suspension order claims. She died at 5 a.m.
Another resident, an 84 year old with cardiac disease and dementia, was recorded as being resting in bed with even, unlabored respiration on September 14 — long after he had already died, the order stated.
Source: Hollywood Nursing Home Victims' Body Temperatures Approached 110 Degrees: Officials – NBC 6 South Floridahttp://www.nbcmiami.com/news/local/Hollywood-Nursing-Home-Victims-Body-Temperatures-Approached-110-Degrees-446250883.html?_osource=SocialFlowFB_MIBrand#ixzz4tJkJ5TvC
Follow us: @nbcmiami on Twitter | NBCMiami on Facebook