From Huffington Post–
WASHINGTON ― A D.C. judge has tossed out a jury's conviction of a protester who laughed during Attorney General Jeff Sessions' Senate confirmation hearing, finding on Friday that the government had improperly argued during the trial that her laughter was enough to merit a guilty verdict. The judge ordered a new trial in the case, setting a court date for Sept. 1.
Desiree Fairooz, 61, who was associated with the group Code Pink, had been convicted of disorderly and disruptive conduct and demonstrating inside the Capitol. Fairooz was taken into custody during a Senate Judiciary Committee hearing in January after she laughed when Sen. Richard Shelby (R-Ala.) claimed Sessions had a "clear and well-documented" record of "treating all Americans equally under the law." (The Senate rejected Sessions' nomination for a federal judgeship in the 1980s over concerns about his views on race.)
But Chief Judge Robert E. Morin of the Superior Court of the District of Columbia tossed out the guilty verdict on Friday because the government had argued that the laugh alone was enough to warrant the verdict.
Morin said it was "disconcerting" that the government made the case in closing arguments that the laughter in and of itself was sufficient.
"The court is concerned about the government's theory," Morin said. He said the laughter "would not be sufficient" to submit the case to the jury, and said the government hadn't made clear before the trial that it intended to make that argument.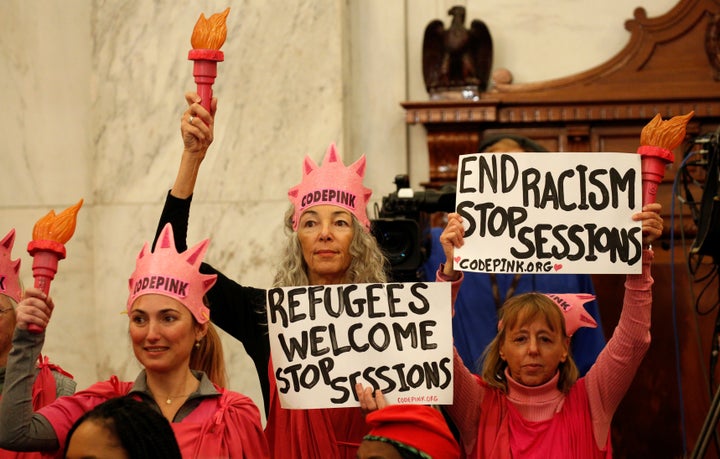 The rookie officer who seized Fairooz had never made an arrest and had no experience securing congressional hearings. Nevertheless, prosecutors pressed forward, insisting that "laughter is enough" to merit criminal charges of disorderly and disruptive conduct and demonstrating inside the Capitol. She was convicted in May.
Fairooz's attorney had argued that she had the right to object to her arrest as she was being taken out of the room, and that a conviction based upon her conduct after the initial laugh could not stand. Attorney Sam Bogash asked the judge to toss out the jury verdict. The jury, Bogash wrote, "was not reasonable" in its evaluation of the evidence.
"Ms. Fairooz's brief reflexive burst of noise, be it laughter or an audible gasp, clearly cannot sustain a conviction for either of the counts in the information," Bogash wrote in a court filing. "So the only other basis for her conviction to anything are her statements after the U.S. Capitol Police arrested her for that laughing. Those statements merely expressed surprise at being arrested."
While some of Fairooz's statements as she was being arrested ― like "Why am I being taken out of here?" ― objected to her treatment, others, like "This man is evil, pure evil," were more political in nature, and perhaps more likely to support a conviction.
Kimberly Paschall, an attorney for the government, argued during a court hearing on Friday that "Ms. Fairooz was not merely responding" to her arrest. "She wasn't just merely responding, she was voicing an opinion," Paschall said.
The government argued that the jury's guilty verdict should be upheld. Paschall had argued in court filings that the government had "presented evidence that the defendant engaged in disorderly or disruptive conduct when she loudly laughed at Senator Shelby's comments." Jurors "could reasonably infer that the laugh was a deliberate disruption" and "intentional," Paschall wrote.
The government also focused on Fairooz's conduct after the officer tried to take her into custody. "She did not merely laugh," Paschall wrote. "Just as a defendant cannot resist arrest when the arrest is unlawful, a defendant should not be able to disrupt a hearing before Congress based on her opinion that police action was unlawful."
When Judge Morin said in court on Friday no one could know the basis of the jury's conviction, Paschall tried to bring up interviews that HuffPost had conducted with the jurors after the meeting, in which they said they were focused on her actions after the laughter. "She did not get convicted for laughing. It was her actions as she was being asked to leave," the jury foreperson told HuffPost at the time.
Judge Morin said those interviews were irrelevant.
"Counsel, you know that's not admissible," Morin told Paschall. He then ordered a new trial.
Fairooz told HuffPost it was "absurd," "ridiculous," and a "waste of tax dollars" that she may have to go to trial again. A spokesman for the U.S. Attorney's Office for the District of Columbia declined to comment on whether the government planned to retry the case.
"For a little giggle in the Sessions hearing, it's outrageous," Fairooz told HuffPost. "I think they're harassing me, it's awful."
Fairooz said she had been hoping that the judge wouldn't give the government another chance to bring it to trial. "Why it got to this point, I don't understand," she said.
News of Fairooz's prosecution went viral after it was first reported by HuffPost. The international news coverage sparked jokes by late-night comedians, including Stephen Colbert, and attracted the attention of Rep. John Conyers (D-Mich.), the ranking member on the House Judiciary Committee. In a letter to the judge, Conyers wrote that "substantial questions exist with respect to the application of law" in Fairooz's case, and asked for leniency.
"As the Ranking Member of the House Committee on the Judiciary, I take seriously breaches of decorum in Congress," Conyers wrote. "However, in this instance, the finding of guilt under these particular circumstances raises questions that should counsel leniency with regard to sentencing."
Tighe Barry and Lenny Bianchi, two protesters tried alongside Fairooz for their actions at the hearing while dressed up as members of the KKK, were sentenced on Friday to 10 days suspension, meaning they likely won't serve any jail time unless they violate the conditions of their six-month unsupervised probation. Restrictions were placed on their access to Capitol Hill.
A spokeswoman for Sessions declined to comment late Friday on whether the attorney general would like his prosecutors to once again bring the case before a jury.
This story has been updated to include more information about the government's arguments supporting the verdict, as well as comment from Fairooz.
From Joanne;
You ask me, it's a waste of tax payer money and everyone should be ashamed for arresting a 61 year old woman who merely laughed at the Capitol.
What has our country come to when this is why Russia and North Korea and sometimes China is not our friend, they have political systems that oppress and shut the people up.
If I were that judge, I would have tossed it right away.
I hope the arresting officer's mother chews him out too for his behavior.
Far too often, I believe, people get away with bad behavior because their moms aren't there reminding them "they weren't raised that way."